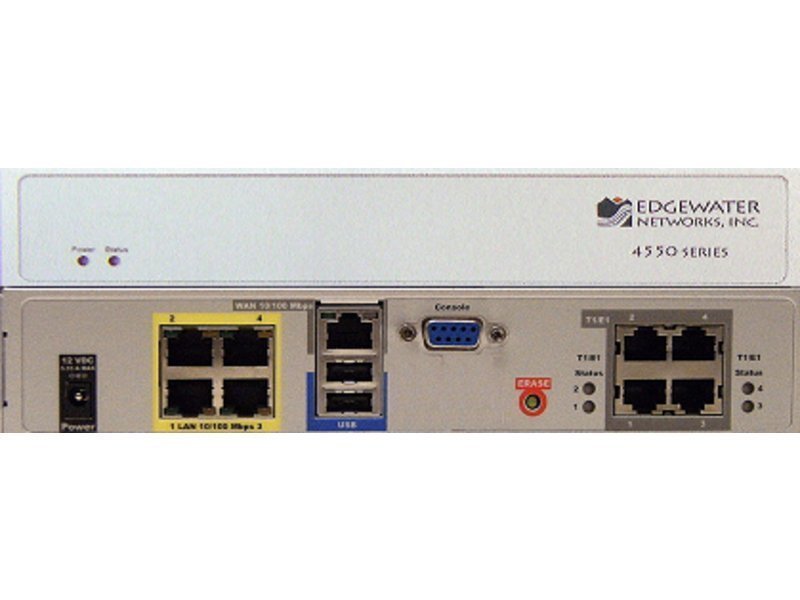 Edgewater EdgeMarc 4550 - 5 Lines
SKU EDGE455005
Product Details
Features:
The EdgeMarc 4550, 4551 and 4552 Network Services Gateways all feature a 10/100Mbps Ethernet WAN port and an integrated 4 x 10/100 managed VLAN switch. The EdgeMarc 4551 and 4552 also provide up to 4 T1/E1 WAN ports with independent clocking that can be bonded for added scalability. The 4551 supports an integrated v.90 modem for out-of-band management. The 4551 and 4552 Series also support T1 PRI for connection to TDM based PBX systems and ethernet handoff to IP enabled PBX systems for use in SIP trunking applications.
The 4550 Series Network Services Gateways are specifically designed to reduce operating expenses for higher bandwidth applications requiring T1/E1 or Ethernet WAN termination. They can be deployed initially for data only service offerings and then easily configured at any time to support converged voice, video and data environments. All 4550 Series Network Services Gateways include Edgewater's EdgeMarc VoIP Operating System software (VOS), which provides award-winning features for converged networking environments. These include a VoIP-aware stateful packet inspection firewall, virtual private networking, traffic management, passive call quality monitoring, active line VoIP testing, VoIP survivability, WAN link redundancy and more. These features enable the EdgeMarc to act as an enterprise session border controller and demarcation point for managed services.
The 4550 Series Network Services Gateways are also fully compatible with the EdgeView VoIP Support System. The award-winning EdgeView VoIP Support System is used by leading service providers and enterprise organizations who are responsible for maintaining and managing converged voice and data networks. It provides visibility into VoIP call quality performance and is used to quickly find network impairments that negatively affect call quality.
"With the introduction of the EdgeMarc 4550 Series Network Services Gateways we are delivering flexible platforms with configurable T1/E1 WAN, T1 PRI and Ethernet interfaces that can be used for a wide variety of managed voice and data services," said David G. Norman, Chief Executive Officer at Edgewater Networks, Inc. "We have also increased the performance range of the systems to deliver greater value."
The EdgeMarc 4550 Series are a part of a comprehensive solution from Edgewater Networks that connect, protect, optimize and monitor converged voice, video and data networks for service providers and enterprises.
Please Note: This version supports up to 5 WAN calls.

Save this product for later